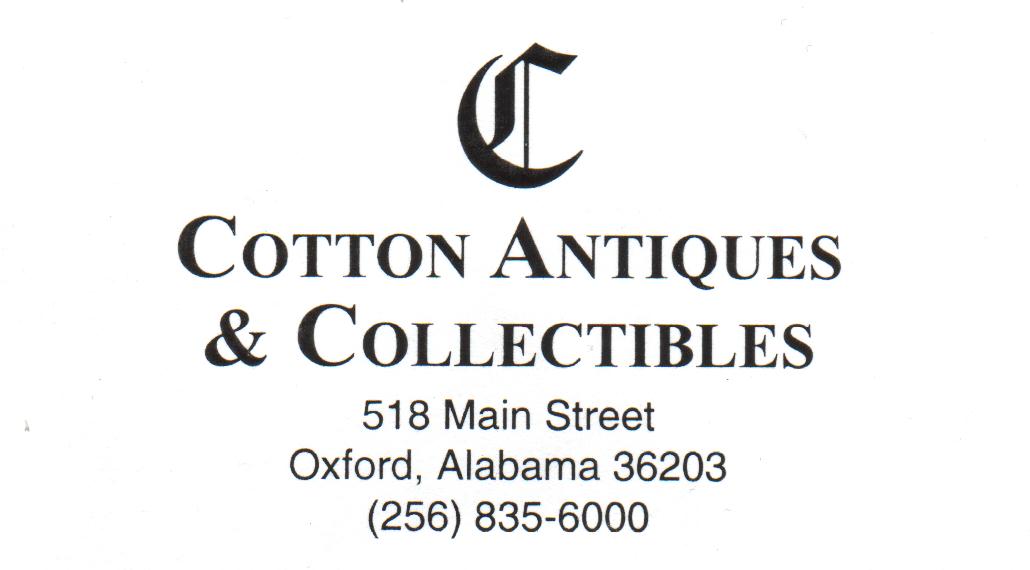 Click The Above Business Card And Go To The Anniston Oxford City Guide Site and View Our On - Line Marketing Show Case !
We have been in Business for the past 15 years in the Anniston Oxford Area , We are located in the former "Cotton Furniture Building" in "Down Town" Oxford "A Complete Brillantly Designed Antique Boutique" of which is straight across "From Stinson & Howard Jewelers" our building has been in this location for years, And we "Pride Our Selfs" As having one of the largest displays of "Antiques and Collectibles" In this area !

You can shop anywhere in town but before you "BUY" Check with us on any similar products and compare our Price to their Price and were sure you will shop with us on any compatible product or Service in the area, Stop in and check us out at 518 Main Street in Oxford Alabama.You can contact us at 256-835-6000 and By EMail at Cotton Antiques & Collectibles !

We have a collection of "Antiques and Collectibles" from some of the "Largest Cities and Smallest Towns", From all over the "Country" You can "Drive A Little" and "Save A Lot" Click on the Below Links And View "Our Listing On The Cyberspace Yellow Pages, And Alabama State City Guide Site Systems !


The Cyberspace Yellow Pages Alabama State City Guide Sites